The example of Tanzania | Written by Abdallah Ramadhani Mkindi, Coordinator of TABIO | May 2015 There are concerns with regards to the government's proposals to revise seed legislation. Moreover, seed sovereignty in Tanzania can only be achieved if smallholder farmers, who provide over 80 per cent of the country's seed requirements, are placed at the centre of decisions on seed systems and policies.
"Filmmaking is the strongest medium for bringing about social change by confronting social and political injustice" says Amil Shivji, one of the young filmmakers from Tanzania. During a tour his two internationally acclaimed and awards winning short films "Samaki Mchangani" and "Shoeshine" will be presented in three German cities. All screenings will be in attandance of Amil Shivji.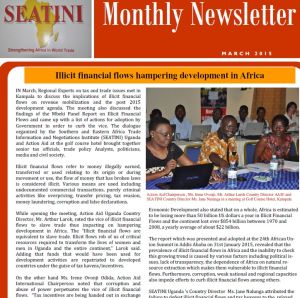 Published by SEATINI Uganda | March 2015 This issue of the monthly newsletter deals with illicit financial flows and the ratification of Treaties Act in Uganda. Read more ... ...
Former President Benjamin William Mkapa has officially launched the highly anticipated Mwalimu Nyerere Resource Centre at the Commission for Science and Technology (COSTECH) in Dar es Salaam. The driver behind the centre is the international well-know lawyer and researcher Prof. Issa Shivji. Since several years Prof. Shivji is member of a team writing a new political biography of the Julius Kambarage Nyerere.