Controlling the South: the case of East Africa | Written by Yash Tandon | Published by RLS Brussels Office | February 2017 This paper falls within the overall theme of mega-regional trade and investment agreements that have proliferated in recent years. It addresses the question of whether they are improving or worsening the condition of countries in the Global South.
Implications on Uganda's and EAC's economy and on people's livelihoods | Written by SEATINI Uganda | March 2016 After 12 years of challenging negotiations, the EAC and EU concluded the Economic Partnership Agreements in October 2014. Nevertheless, critical issues contained in the so-called Rendezvous Clause of the Agreement are yet to be finalized by the two Parties. The analysis examines the rendezvous clause, li ...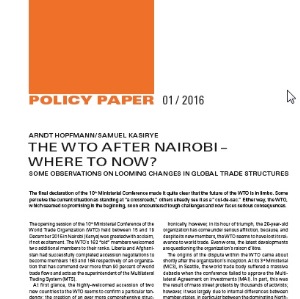 Where to now? | Written by Arndt Hopfmann and Samuel Kasirye | March 2016 The outcomes of the 10th World Trade Organisation Ministerial meeting in Nairobi illuminates the growing challenges within world trade governance and more ominously; a shifting trade landscape. This policy paper makes observations on the looming changes in global trade structures.
... and their systemic implications | Presented by Nathan Irumba, Chief Executive Director, SEATINI | May 2015 A paper presented by Ambassador Nathan Irumba, Chief Executive Director, SEATINI during the conference on mega-trading blocs and the failure of African trade organised by The Commonwealth Secretariat and the International Institute for Sustainable Development (IISD), 26-27 May 2015. The paper gives an ov ...